3Q21 results were better than expectations. Revenue was up 150.9% YoY, PATMI up 477.9% YoY. 9M21 PATMI formed 77.5% of our FY21e forecast.
3Q21 sales volume increased a stellar 93.8% YoY on the back of increased domestic demand for steel.
Maintain BUY with a higher TP of S$0.47, up from S$0.28. We raise FY21e PATMI by 69.2% to capture its 3Q outperformance. Our TP remains pegged to 11x FY21e, the industry average. Catalysts are expected from a 50% jump in production in FY21e and iron ore prices (Platts Iron Ore Index, IODEX 65% Fe CFR North China) remaining above US$110/DMT. The company announced a proposed US$30mn acquisition of Malaysia iron ore and copper producer.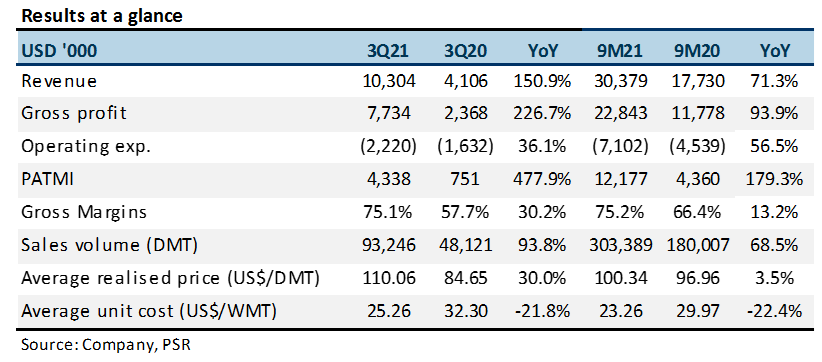 The Positives
+ Continued volume growth. Iron ore concentrate volumes sold increased 93.7% YoY in 3Q21. This translated to revenue growth of 150.9% YoY. Volume and revenue were both lower QoQ due to monsoon disruptions to production that typically occur at year-end.
+ Spike in margins. Gross margins increased from 57.7% to 75.1% in 3Q21. Revenue for the quarter more than doubled, driven by higher prices for high-grade iron ore concentrates. Their ASP was a record US$110.06/DMT as iron ore prices reached a 7-year high. Average unit cost was also lower YoY through increased iron ore production.
+ Operating cash flow increased 7x. 3Q21 operating cash flow of US$11.7mn was 7x the US$1.6mn achieved a year ago. Net cash slightly dipped from US$9.9mn to US$9mn while FCF turned around from -US$328k in 3Q20 to US$10.4mn in 3Q21.
The Negative
– Nil.
Proposed acquisition of Malaysian subsidiary of Monument Mining Ltd
Monument Mining Ltd (MMY CN, Not Rated) is an established Canadian gold producer that operates gold mines. It also acquires, explores and develops other base metals. FML has entered into a conditional sale and purchase (SPA) agreement with the company for the acquisition of the entire Monument Mengapur (MMSB). MMSB owns a 100% stake in the Mengapur copper and iron project in Pahang, Malaysia. Cash consideration is US$30mn. FML will pay a royalty fee of 1.25% of gross revenue from all products produced at Mengapur to Monument Mining.
Other than magnetite, Mengapur contains a significant amount of copper, gold and silver resources. FML will mine only magnetite for the production of its iron ores. Ores containing other materials encountered during mining will be stockpiled for future use.
With this acquisition, FML's magnetite resources will surge from 7.18mn tonnes from its Bukit Besi mine as of February 2020 to 17.93mn tonnes. Geochemical analysis and metallurgical tests have proven that the Mengapur magnetite is extremely similar to that from the Bukit Besi mine, which has demonstrated to be economical. FML's Buki Besi mine has been able to yield consistently-high-grade magnetite iron ore concentrates.
Mengapur is strategically located 65km away from the Kuantan port, the main bulk iron ore export port on Malaysia's East Coast. It is also within close proximity of the two largest steel mills in Malaysia, both of which are FML's customers.
Mining leases and environmental approvals for open-pit mining have been obtained. With its existing processing plants and other facilities, the Mengapur site is ready for development. It is immediately available for magnetite production after refurbishment.
This is the company's first proposed acquisition. If executed according to plan, it should help transform FML into a regional player in iron ores, coupled with its efforts to explore and develop iron ore assets across Malaysia. Mengapur should also complement FML's existing portfolio of advanced iron ore projects.
Outlook
Iron ore prices are expected to taper down in 2021 as supply balances out demand. We expect them to drop from the current US$190/DMT (Platts IODEX 65% Fe CFR North China) to the region of US$110/DMT. This would translate to lower ASPs of US$95/DMT for FML, from US$110.06/DMT in 3Q21. However, FML's revenue should still increase with higher iron ore volumes sold following its announcement of an offtake agreement in September 2020. Operating expenses are also expected to be stable with the help of improved economies of scale.
Maintain BUY with higher TP of S$0.47 from S$0.28
We maintain BUY with a higher TP of S$0.47, up from S$0.28, after we increase FY21e PATMI by 69.2% to factor in its 3Q21 outperformance. We continue to peg the stock at 11x FY21e PE, the industry average. We expect production to jump 50% in FY21e and iron ore prices (Platts Iron Ore Index, IODEX 65% Fe CFR North China) to remain above US$110/DMT, providing stock catalysts.
Source: Phillip Capital Research - 18 Jan 2021