Arjuna Chandran Shankar
/
The Edge Financial Daily
March 16, 2020 06:01 am +08
This article first appeared in The Edge Financial Daily, on March 16, 2020.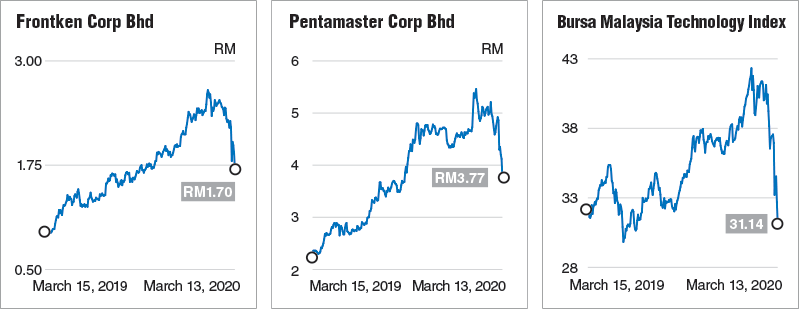 KUALA LUMPUR: Semiconductor stocks sank further last week amid concerns over the industry's global supply chain in the wake of the Covid-19 pandemic.
While the overall market was battered due to rising concerns among investors about the economic fallout from the pandemic, the semiconductor sector was additionally affected by the news of supply disruptions.
TA Investment Management Bhd chief investment officer Choo Swee Kee said the supply interruption period has been about two months long in China, but shortages have yet to reach a critical stage with most industries keeping inventories as backup.
However, given the virus spread globally, possible restrictions on trade and exports to control outbreak could be on the cards, he said.
Areca Capital Sdn Bhd chief executive officer Danny Wong said the decline in the price of semiconductor shares were part of an overall panic sentiment stemming from the equity rout that is afflicting markets worldwide.
"If you look at the past one or two months, there will be earning impacts for semiconductor companies. Looking beyond this, people should realise that it is not a write-off. It is a delay in production. China can easily catch up," Wong said.
AllianceDBS Research analyst Toh Woo Kim told The Edge Financial Daily that the supply chains will eventually normalise, but given the now accelerated global spread of the virus, the recovery for the sector could be slower.
"Recovery will be slower because of reduced activities across the board. Demand will also be impacted due to macro-economic headwinds," Toh said, while noting that there is a high correlation between semiconductor sales and global economic growth.
Among semiconductor stocks that fell last Friday was Key Asic Bhd, which lost 14.29% or half a sen to three sen. Year to date (YTD), the counter has depreciated by 40%.
Frontken Corp Bhd's shares, meanwhile have fallen 25.76% YTD after declining by 10.05% or 19 sen to RM1.70 last Friday.
Pentamaster Corp Bhd, which fell 8.50% or 35 sen to RM3.77 last Friday, has fallen by 9.25% YTD.
Bursa Malaysia's technology index, whose components include semiconductor stocks, fell 1.53 points or 4.69% to 31.14 last Friday.
Rakuten Trade Research vice-president Vincent Lau said semiconductor stocks could go down further given the volatility that is afflicting the stock market.
"People are now trying to avoid risk in this environment," he said, adding that the confluence of macro uncertainty combined with industry-specific concerns have impacted semiconductors.
Toh said the fundamentals of semiconductor stocks are there, but they have been trading at expensive valuations in terms of price to earnings (PE). Once the current market volatility is over, certain investors may bottom fish beaten-down stocks, he said.
According to AbsolutelyStocks.com data, Vitrox Corp Bhd has a trailing twelve-month price-earnings ratio (TTM PER) of 46.13 times. KESM Industries Bhd has a TTM PER of 35.07 times, while Frontken has a TTM PER of 28.63 times.
For both Choo and Wong, the semiconductor sector will still be a significant driver of the technology sector moving forward, particularly as technology becomes more integrated in normal day-to-day activities.
"As an example, even a simple thing like a door lock in the future could have a semiconductor chip embedded in it," said Choo, who noted that as with all investments, investors have to buy based on the fundamental growth of the stock.
In the same vein, Wong added that semiconductor stocks are worth tracking in the next one to two years, particularly as more developments surrounding 5G technology appear and become part of daily life.
Semiconductor manufacturing activities in China have been temporarily impacted by the Covid-19 outbreak, as factories have been closed to limit the spread of the virus among workers.
Even technology giants such as Apple Inc are not immune to the Covid-19 outbreak. The group announced a month ago that it was likely to miss its revenue guidance in its March quarter due to slower iPhone production as a result of and slower demand for its products in China itself.
Apple's manufacturing partner Foxconn has restarted production at its main plants in China, but has warned of lower revenues as a result of the viral outbreak.
Many had viewed the semiconductor industry to benefit from the US-China trade war, as tech companies would seek such chips from companies based here.
However, with uncertainty over the Covid-19 continuing to make an impact on a more global scale, it remains to be seen when exactly will Bursa Malaysia-listed semiconductor stocks be able to stage a comeback.