Justin Lim
/
The Edge Financial Daily
March 16, 2020 07:39 am +08
This article first appeared in The Edge Financial Daily, on March 16, 2020.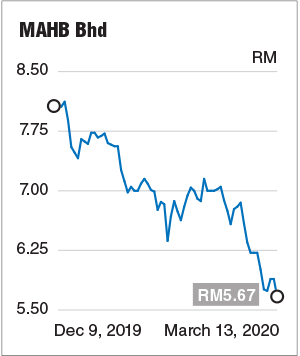 KUALA LUMPUR: Malaysia Airports Holdings Bhd (MAHB) is among the stocks that have come under selling pressure after the Covid-19 outbreak at the end of last December. Since the beginning of this year, the airport operator's shares have gone down by 25%.
Last Friday, the counter closed at RM5.67, the lowest in over three years.
Some analysts are of the view that the selldown of MAHB presents a buying opportunity for investors.
Eleven analysts who track the stock have recommended a "buy" while nine have issued "hold" or "neutral" calls, according to Bloomberg data. The consensus target price is RM7.64.
The analysts who have issued "buy" calls said MAHB's current valuation is appealing and gives savvy investors an opportunity to look into the group's long-term prospects. On top of that, they believe that the downside is limited as most negativity has been priced in the share price at this junction.
When contacted, MIDF Research analyst Adam Mohamed Rahim, who has maintained a "buy" recommendation for the stock, said MAHB's value has emerged following the selldown in the shares.
This is because the stock is currently trading at a 12-month price-to-earnings ratio (PER) of 20 times, three times cheaper than its five-year average PER of about 60 times.
He said the weakness in MAHB's shares price presents an opportunity for investors to take positions to capture the upside after the peak of the pandemic. He noted that MAHB's share price had rebounded 31% three months after the peak of the severe acute respiratory syndrome outbreak in 2003.
Nomura Securities Malaysia Sdn Bhd analyst Ahmad Maghfur Usman, who also maintained a "buy" call on the counter, noted that MAHB is the second-cheapest airport stock around the world, in terms of valuation.
He noted that MAHB is currently trading at a depressed valuation at 6.7 times based on its FY21's (financial year ending Dec 31, 2021) enterprise value-to-earnings before interest, taxes, depreciation and amortisation.
"Following our earnings revisions, our sum-of-total-part-derived target price is cut to RM7.65 (from RM9.21 earlier), implying an upside of 29.9%," he added in a note to investors dated March 12.
RHB Research analyst Alan Lim said MAHB's stock downside may be limited as most bad news have been priced in and its current share price is trading near its book value of RM5.62. But, there are some risk factors that may limit the upside of MAHB's share price as well, he said.
The risks are potentially being excluded from the FBM KLCI, uncertainty over the Regulatory Asset Base framework and details of the rebate on rental for premises at the airport as well as landing and parking charges under the stimulus package followed the change of government as well as Covid-19, Lim said in a note to investors on March 11.
Inter-Pacific Securities Sdn Bhd head of research Victor Wan said market volatility may persist as long as the Covid-19 pandemic continues.
"It is still hard to say the worst is over, as more countries began to shut their borders. Everything is still uncertain at this stage; therefore, it is hard to tell where the bottom is," Wan told The Edge Financial Daily.
"The end result nobody knows. We do not know how long this Covid-19 will last, and how long it will affect airline stocks and airport operators as well. People also worry that recovery may not be soon and that it will dent airline companies' earnings," he added.
Many airlines have slashed flights as demand plunged due to the pandemic, and offered pay cuts for their employees. Many countries have also tightened borders to combat the spread of the virus.
MAHB has blamed the pandemic for the shortfall in its passenger numbers for February. It reported a 23.4% year-on-year decline in the number of passengers travelling through its airports in Malaysia at 6.24 million passengers during the month, versus 8.15 million passengers in the same month last year.
MAHB said international passengers traffic fell 29.7% y-o-y to 2.95 million passengers, from 4.19 million passengers, while domestic travellers declined by 16.8% to 3.3 million passengers, from 3.96 million passengers in February last year.
RHB's Lim is cutting MAHB's passenger assumption to a 2% contraction, from 1% growth previously. With this, he has cut the airport operator's FY20 and FY21 earnings projections by 7% to 13%.
Lim has maintained a "neutral" call on MAHB with a reduced target price of RM6.15 from RM6.88.
Following the drop in February passenger traffic, MIDF's Adam has revised his projection to 100.1 million passengers for 2020, from 109.3 million estimated earlier, before rebounding by 8.2% in 2021 to 108.3 million passengers, underpinned by expected recovery from the pandemic.
This year's estimation represented a 4.8% contraction, compared to the 105.2 million passengers number seen in 2019.
Adam has estimated a marginal 1% drop in the earnings estimation for MAHB this year, with a lower target price of RM7.65 from RM7.83.
Nomura's Ahmad has issued a more aggressive projection, cutting as much as 59% of MAHB's earnings for this year with expectations of about 10% drop in passenger traffic, which is below the 3.2% passenger traffic growth he had estimated previously.
"Coupled with an expected discount relief on landing and parking to the tune of 15%, and a drop in per pax spending of 4% year-on-year, we cut FY20, FY21 and FY22 earnings by 59%, 23% and 32%, which stand at 48% and 8% and 21% versus consensus forecast," he added.
MAHB operates 39 airports in Malaysia including Kuala Lumpur International Airport (KLIA) and klia2. It also operates an international airport in Istanbul, Turkey.