Khairie Hisyam Aliman
/
The Edge Malaysia
March 20, 2019 17:00 pm +08
This article first appeared in The Edge Malaysia Weekly, on March 11, 2019 - March 17, 2019.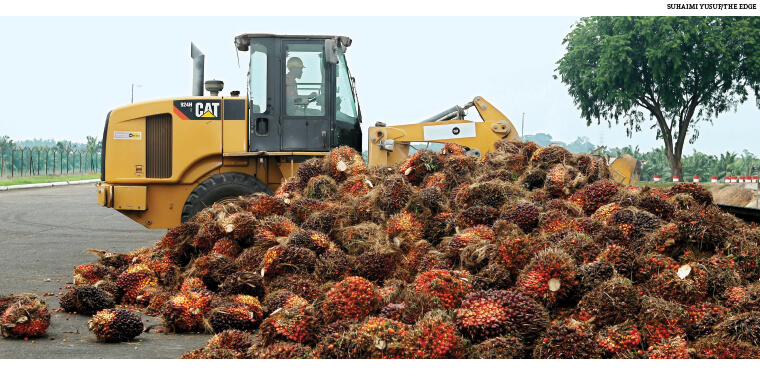 Boustead expects CPO prices to recover, production costs to ease and productivity to improve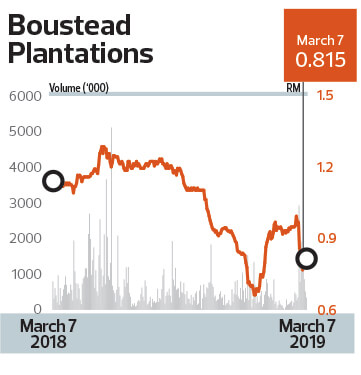 HIT by high costs and falling crude palm oil (CPO) prices, and digesting a big RM750 million land acquisition, Boustead Plantations Bhd sank to a historic loss in the financial year just ended. But the planter expects the situation to improve this year, although it still has one major land acquisition — with a RM397 million price tag — to pay for soon.
The group tells The Edge that it expects CPO prices to recover, production costs to ease and productivity to improve.
"We may consider lightening our balance sheet through the monetisation of non-core assets as interest expenses are estimated at about RM200 to RM250 per tonne of CPO," says a company spokesman via email.
With the monetising of non-core assets "with high development potential" on the cards over the next three to four years, the subsequent debt reduction may yield interest savings of RM80 to RM90 per tonne of CPO in the first two years, it adds.
To recap, Boustead Plantations posted a net loss of RM51.78 million for the 2018 financial year ended Dec 31 (FY2018), its first full-year loss since listing in 1973. Revenue fell 23.2% year on year to RM584.01 million.
Its top line came under pressure as CPO prices continued to decline last year, from about RM2,500 per tonne in January to as low as RM1,718 by November.
Costs were also high — the planter was only profitable for 1QFY2018. Maybank Research estimated that the planter's all-in production costs came to RM2,510 per tonne last year.
The historic loss meant it did not declare a dividend for 4QFY2018, breaking its decades-long track record of paying quarterly dividends.
To be fair, the situation was not unique to Boustead Plantations as some of its peers were also facing a financial squeeze due to similar factors.
However, the falling CPO price environment came at a bad time for Boustead Plantations, which had been shopping for new plantation assets.
One of them was its RM750 million purchase of 11,579.31 acres of plantation land located across 42 parcels in the Beluran district, Sabah, which was completed and paid for on May 16 last year.
The estates were sold by Pertama Land & Development Sdn Bhd, a unit of Dutaland Bhd.
In that quarter, it added RM703.26 million in borrowings to its balance sheet. Between March 31 and June 30, short-term borrowings nearly doubled to RM656.48 million.
It also recorded RM380.81 million in long-term borrowings — the firm did not have long-term borrowings as at March 31, 2017.
As at Dec 31, 2018, its long-term borrowings stood at RM373.09 million, while short-term borrowings amounted to RM744.6 million. Net gearing stood at 0.4 times.
According to Boustead Plantations, the financing costs for the Pertama estates alone came to RM23 million last year, or about RM100 per tonne of CPO.
The group also had to incur start-up expenses for the Pertama estates operations that led to about RM30 per tonne of CPO in net loss, excluding amortisation and financing costs, it added.
In addition, it incurred amortisation charges on land and bearer plants — due to the first-year adoption of the Malaysian Financial Reporting Standards (MFRS) 141 and 116 effective January 2018 — of about RM400 per tonne of CPO last year.
"Excluding the exceptional charges (from MFRS adoption and Pertama estates), our adjusted all-in production costs (would have been) below RM2,000 per tonne in FY2018," the group says.
The higher average cost was also due to a shortage of harvesters, which led to a 1% y-o-y drop in fresh fruit bunch (FFB) production last year.
Last Thursday, Boustead Plantations' shares closed at 81.5 sen apiece. The stock has fallen sharply from its one-year peak of RM1.34 per share in mid-May last year to as low as 69 sen by December — a multi-year low.
Borrowings burden
The group expects to turn itself around this year. Among other issues, it says labour shortages are being addressed by increasing mechanisation while ramping up its labour recruitment drive this year.
Overall, the planter expects FFB output to rise this year with the full-year consolidation of production yield from the Pertama estates. "As Pertama's production yield improves, unit costs of production are expected to ease in FY2019. Production costs are expected to be lower in FY2019 compared with FY2018."
It also expects CPO prices to recover and average RM2,450 per tonne this year, supported by an expected reduction in palm oil stocks thanks to Indonesia's increased biodiesel mandates.
The group also expects lower import duty on crude and refined palm oil in India, as well as China's positive outlook from the trade dispute with the US to boost CPO prices this year.
However, Boustead Plantations still needs to grapple with its relatively high borrowings — especially short-term — until CPO prices recover and yield from its new estates improves.
The group expects to incur roughly RM56 million in interest expenses this year, which it says remains manageable.
And borrowings are poised to increase soon. The planter is buying another 4,915.25ha of plantation land spread across 17 estates, plus a 75-tonne-per-hour mill.
Of the land area, 4,444ha are planted. That means the average price per planted hectare was RM79,216 — among the highest seen in recent years, according to Maybank Research last August.
Coupled with an old average tree age of 19 years, analysts had raised doubts as to whether it is a prudent acquisition.
The group confirms that of the RM397 million price tag, RM350 million will be via borrowings and that financing has been secured. The deal has seen some delay, but is expected to conclude in the first half of this year.
Asked about the additional short-term cash strain from the looming acquisition, Boustead Plantations says it is taking a long-term view of the return prospects given the scarcity of plantation assets in Malaysia.
In the short term, it is counting on its land disposal in Seberang Perai Utara, Penang, to ease the cash strain on its balance sheet. Slated for completion by 1QFY2019, the group expects RM122 million in proceeds, which should see the return of dividends.
It is also looking to review its short-term financing by increasing the financing tenure over the next 12 months, which means it may be able to lower the interest costs.
"As with all businesses, there are cycles when we have to take on business decisions that may not have an immediate and direct yield," Bousted Plantations says.
"However, in the long term, given our expertise in the sector and vast proven track record, we expect these acquisitions to contribute handsomely to our bottom line."