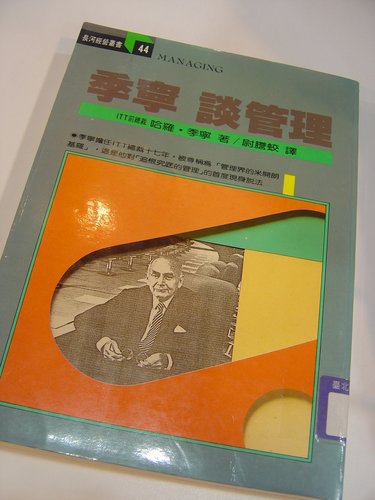 《季寧談管理》(Managing) -- 這是一本讓我為之振奮、如醍醐灌頂般的經營管理書籍,深感榮幸能夠讀到這本好書。
季寧(Harold Geneen, 1910-1997)為紐約上市公司 ITT Corporation (International Telephone and Telegraph Corp.) 前董事長及執行長,他在位的 10 年間將該公司營收由每年不到 8 億美金提升至 170 億美金,並透過一系列的併購將營運由電信擴展至保險、旅館、房地產及其它產業之跨國集團。到了一九七七年季寧退休時,營業額與利潤都大約成長了二十倍,並且連續十四年半的時間,每年的成長超過百分之十。
《季寧談管理》這本書是季寧從事管理工作五十年的現身說法,他首先提出管理的G(Geneen)理論,不能只靠一種理論來管理一家企業; 接著指出企業管理的三句箴言; 還有要在工作中追求經驗,因為有了經驗,鈔票自然會來。季寧的哲學就是:先決定你想做的事,然後就開始做。
在閱讀此書時,我一邊閱讀也在一邊思考,也在與自己不斷的對話,也會與另一半一起討論,而對於自己所經營的店舖管理上,季寧的一些理論與想法對我真的是受益良多。在這些理論與想法中,我特別喜歡季寧所分享的這句話,這是一句讓我反覆的念誦、思考、與銘記在心的一段話:「讀書的時候,你會從頭讀到尾。但是經營企業正好相反,你必須從終點開始,並且用盡心力去做能到達終點的事。」
很高興能夠讀到一本值得細讀、且反覆思考的好書。在此把此書的一些佳言紀錄下來,因為所讀的是翻譯的版本,特別找到英文原文與中文翻譯一起共讀。另外,我也很喜歡季寧為此書所寫的序,簡短卻深具啟發,寫此文時,也在心中期許著自己,也能帶著這些具有正面力量與意義的理念,一步一步往目標邁進。
《季寧談管理》原著自序:
企業千頭萬緒,但卻可以用平衡表(balance sheet)來表示。企業是一個變化多端的生命體,有時候巍然聳立,有時候揉成一團。企業的靈魂是由需求、慾望、貪婪和喜悅,再參合自私、犧牲和超越物質報酬的個人貢獻所鍊製而成的。它能滿足許多男男女女的抱負,並且是我們獲取物質的安全感與享受的來源。
對我個人來說,經營企業是一種迷人的、不斷自我要求的,並帶有創造性的過程,值得列為高層次的藝術,也值得為了自我和社會,以及為了產生最大的滿足感,把一切完全投入。我經歷的所有的一切--而且我也十分瞭解。
我總是辯稱沒有才智不凡之士。企業裡最偉大的成就,事實上甚至生命裡所有最偉大的成就,都是由極平凡的人士完成的。沒有所謂的天才。平凡人的不平凡表現,造就了企業界以及其他領域的領袖人物。
因此,如果天降大任於某一平凡人身上,使他得悉我們生命當中的一、兩項基本真理,他就有義務把所學到的,貢獻給別人。
我是秉持這一信念來寫這一本書。深願讀者能根據我個人的經驗,而對企業之經營得到若干啟發與真理。
《季寧談管理》佳言摘錄
◎ G(Geneen)理論: 你不能只根據一項理論,管理一家企業或任何其他事情。(You cannot run a business, or anything else, on a theory.)
◎ 企業管理課程的三句箴言: 讀書的時候,你會從頭讀到尾。但是經營企業正好相反,你必須從終點開始,並且用盡心力去做能到達終點的事。(You read a book from beginning to end. You run a business the opposite way. You start with the end, and then you do everything you must to reach it. )
◎ 在企業世界裡,每一個人都會得到兩種報酬: 鈔票與經驗。有了經驗,鈔票自然會來。(In the business world, everyone is paid in two coins: cash and experience. Take the experience first; the cash will come alter. )
◎ 每家公司都有兩種組織結構: 一種是繪成圖表的正式結構,另一種是組織內男男女女的日常動態關係。(Every company has two organizational structures: The formal one is written on the charts; the other is the everyday relationship of the men and women in the organization.)
◎ 管理階層必須管理。(Management must manage!)
◎ 領導不能教,只能學。(Leadership cannot really be taught. It can only be learned.)
◎ 影響企業主管工作最糟糕的疾病,不是一般人所想的「酒精中毒」,「而是自我中毒」。(The worst disease whicn can afflict business executives in their work is not, as popularly supposed, alcoholism; it's egotism.)
◎ 我覺得商界裡一個永遠不變的準則是文字是文字、解釋是解釋、承諾是承諾 – 但只有成果才是真實。(I think it is an immutable law in business that words are words, explanations are explanations, promises are promises – but only performance is reality.)
◎ 激發人們達成優越表現的最佳方式是透過你做的每件事及你每天的態度來讓他們相信你是全心全意的支持他們。(The best way to inspire people to superior performance is to convince them by everything you do and by your everyday attitude that you are wholeheartedly supporting them.)
(原文寫於2013/6/10)
2017/9/14
重讀四年前寫的這一篇閱讀筆記感受非常深刻。
「你必須從終點開始,並且用盡心力去做能到達終點的事。」
這句話那時讀到就像當頭棒喝般震撼,
但我功力尚淺,至今仍持續在實務經驗試誤學習體會中,
給自己打打氣,繼續加油!!!