Arjuna Chandran Shankar
/
The Edge Financial Daily
May 27, 2019 09:02 am +08
This article first appeared in The Edge Financial Daily, on May 27, 2019.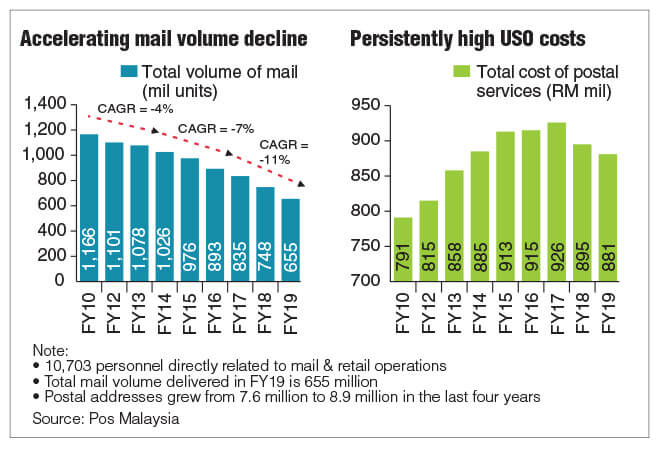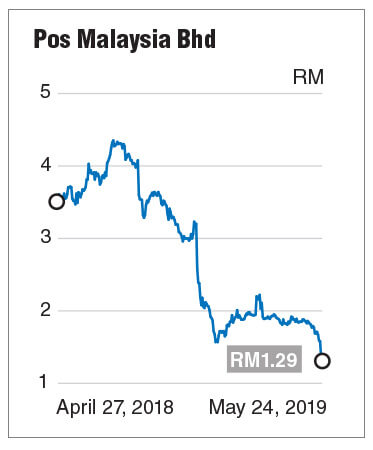 KUALA LUMPUR: Pos Malaysia Bhd incurred a net loss of RM165.75 million in the financial year ended March 31, 2019 (FY19) — its first annual loss since FY08. Its snail mail segment was the main contributor, besides goodwill impairment.
The postal group's earnings improved noticeably after a postage tariff was granted in 2010. So, Pos Malaysia is now hoping that the government will soon approve another hike, which it is banking on to stop the bleeding in its traditional mail segment.
Its parent DRB-Hicom Bhd, which holds a 53.5% stake, expressed confidence as recently as last month that Pos Malaysia's fortunes would be reversed once the government approved the rate hike.
However, some quarters do not think that a postage hike alone will be good enough to put the postal group on a sustainable growth path. Most analysts who keep tabs on Pos Malaysia view that the group's ballooning workforce, which expanded to 22,915 in FY18 from 16,125 in FY08, is an area that needs attention. It has more than 8,000 postmen, including community postmen, working nationwide.
The last time postal rates were raised was in 2010, when standard mail weighing under 20g was set at 60 sen, from 30 sen previously. The previous rate had been kept since 1992.
The group's spokesman told The Edge Financial Daily that its postal services segment posted a RM183 million loss for the year, and that customers' migration to digital channels was the main reason for the decline in conventional mail.
At the same time, he explained that Pos Malaysia has to not only maintain its postal coverage across the nation, but also expand its network as population continues to grow and new addresses pop up.
On top of that, staff costs "have grown each year despite the decline in mail as we have provided increments to the staff so that they can keep pace with the cost of living".
Costs of its universal service obligation (USO) — under which it provides postal coverage to the entire country — stood at RM881 million in FY19, the spokesman added.
Analysts expect the company to continue to bleed, at least for the next two financial years, if more drastic actions such as workforce reduction and branch closure, together with the further maximisation of its network, are not taken.
"[Pos Malaysia] management is confident that the regulated postal tariff hike (on the basis that costs and number of postal addresses have increased) they are requesting will be approved by FY20F. However, we believe this will have the negative impact of exacerbating the decline in postal volumes (we now pencil in 8% decline annually) and result in increase in staff costs (as employee welfare needs to be taken care of)," Nomura Research's Ahmad Maghfur Usman and Divya Thomas wrote in a note last Friday.
Hong Leong Investment Bank shares a similar view, despite Pos Malaysia management's belief that it will help the company break even in FY20. "Without this tariff hike, [the] postal services segment will continue making losses. However, we opine that even with the tariff hike, postal services may still continue making losses due to continuing decline in their mail volume coupled with high costs to serve the USO," it said in a separate note.
In FY19, the group recorded its biggest annual loss yet against a net profit of RM93.25 million a year ago, despite just a 5% decline in revenue to RM2.36 billion from RM2.47 billion in the previous year.
Its share price dived to RM1.29, its lowest since December 2008, following the release of its FY19 results. The group attributed its FY19 loss to widening losses from its mail segment and impairment charges due to loss of goodwill in Pos Logistics Bhd.
Streamlining operations
"Ultimately, it comes down to productivity. It may be an unpopular move to lay off employees, but the way I see it, it is the only way to go, together with cutting down the number of branches in a more drastic manner," said an analyst who declined to be named.
The group also needs to maximise its delivery network, said a fund manager who spoke on condition of anonymity. This includes partnering other post and courier companies to bridge the gap in its services, amid rising e-commerce demand. "They [Pos Malaysia] have the network, but they need to maximise this network," he said.
Another means to do so is by turning its branches into one-stop shops for utility services. This means the group should, if possible, partner utility providers and share branch spaces, whereby the full retail aspect of the utility providers' services can be integrated into the branch.
Analysts covering the stock, according to Bloomberg, estimated that Pos Malaysia will turn in an average net loss of RM42.6 million for FY20, and a net loss of RM25.1 million for FY21.
Rising operating and intense competition
Kenanga Research, which kept its "underperform" call on the counter after trimming its target price (TP) to RM1.30 from RM1.50, said Pos Malaysia is suffering from an environment of elevated operating expenditure.
"[And] intensifying competition, coupled with continued expansion efforts, have led to stagnating margins, thus causing profit deterioration despite volume and revenue growth. Meanwhile, given Pos Malaysia's inability to close down post offices, coupled with its unionised workforce and losses in its postal services segment, losses are only expected to continue widening moving forward," Kenanga Research said.
Kenanga Research forecasts that Pos Malaysia will turn in a core net loss of RM15 million in FY20 instead of a profit, after accounting for higher losses in its postal services, following its dismal FY19's core net loss of RM126.1 million, versus the research house's estimation of RM5 million, and the market's RM29.6 million.
Nomura Research, meanwhile, downgraded Pos Malaysia to "reduce" from "neutral", and slashed its TP to RM1.26 from RM2.12, after forecasting that the group would post a net loss of RM69 million for FY20, and RM73 million for FY21.
"While we agree that Pos Malaysia has the highest handling capacity [to capture more volumes], its near-term outlook remains bleak as competition has intensified with new entrants such as JNT (backed by Oppo's founder) expanding aggressively. As a result, we expect yields to drop by 7% in FY20F (from a 15% drop in FY19)," it said. JNT or J&T Express Sdn Bhd is the courier partner for online shopping portal Shopee.
Pos Malaysia's ground handling business also looks challenging, Nomura said, as its 4QFY19 revenue dropped by 9% year-on-year to report losses before interest and tax in 4QFY19, after losing businesses from AirAsia Group Bhd, with customers switching to the latter's ground handling company, Ground Team Red Sdn Bhd, a joint venture with Singapore-based SATS Ltd. "[Pos Malaysia] management said it would take a year or two to fill the gap," Nomura added.