Adam Aziz
/
The Edge Malaysia
May 31, 2019 14:24 pm +08
This article first appeared in The Edge Malaysia Weekly, on May 20, 2019 - May 26, 2019.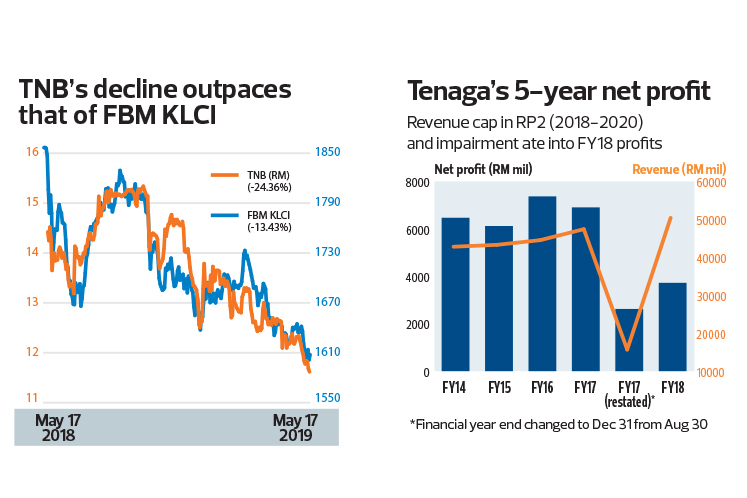 LOOKING at Tenaga Nasional Bhd's current share price, one could say its major shareholder Khazanah Nasional Bhd made the right call to place out a 1.5% stake in the utility group at RM12.33 apiece on April 11 — 2% below its market price on the day before.
This is because the FBM KLCI heavyweight closed at its 40-month low of RM11.58 last Friday. Year to date, the institutional counter had declined 13.29%, outpacing the 5.04% decline in the benchmark index.
Apart from selling by foreign funds and a weaker ringgit, other reasons for the recent sell-off in Tenaga include its lower earnings in the financial year ended Dec 31, 2018 (FY2018).
The company also saw a lower return of 7.3% on its regulated asset base (RAB) under Regulatory Period 2018-2020 (RP2). In RP1 (2014-2017), the allowed rate was 7.5%, but it was estimated to reach 8.9% because Tenaga's distribution network applied a price cap model instead of the current revenue cap model.
The underperformance of Tenaga's investments in Turkey (GAMA Enerji Anonim Sirketi) and India (GMR Energy Ltd) also helped drag down its FY2018 net profit, resulting in impairments of RM1.18 billion.
Viewed against such a background, the company is likely to see some improvement this year, say analysts.
In a May 10 note, UOB Kay Hian estimates a stronger 1QFY2019, based on an expected 5% year-on-year increase in its RAB to RM52.6 billion this year, and in the absence of impairments on its overseas ventures, which have been fully provided for.
This does not take into account around RM300 million of negative non-cash impact on Tenaga's earnings in FY2019 from higher generation, financing and depreciation expenses for its two upcoming power plants under the accounting standard MFRS16 that took effect this year.
Meanwhile, regulatory risks are fewer than anticipated. Tenaga president and group CEO Amir Hamzah Azizan highlighted at the company's latest annual general meeting that deregulation is likely to occur in retail, which forms a small portion of Tenaga's portfolio.
A further announcement by MyPower Corp on power-sector reforms under the Malaysia Electricity Supply Industry 2.0 initiative is expected in the middle of this year at the earliest, but the downside seems limited for now.
Beyond its existing operations, Tenaga sees opportunities for growth in its plan to participate in the National Fiberisation and Connectivity Plan (NFCP).
After a successful pilot to utilise its fibre assets to facilitate high-speed broadband in Jasin, Melaka, Tenaga now wants to strengthen its footing in the segment and utilise its nationwide fibre network that is mostly idle at the moment.
Recall that Tenaga had initially planned to join hands with Telekom Malaysia Bhd (TM) to facilitate the nation's fiberisation agenda, but the memorandum of understanding was terminated, which was welcomed by Communications and Multimedia Minister Gobind Singh Deo, who had considered the partnership a monopoly. Now, Tenaga is going it alone.
Broadband: A viable but small venture for Tenaga
Tenaga has a fibre network that spans 16,000km along its electricity grid, which it plans to lease out to end-suppliers using a wholesale model.
The utility group also participates as an end-supplier through its subsidiary City Broadband Sdn Bhd in Jasin, Cyberjaya and Kampung Kerinchi in Kuala Lumpur.
In an interview with The Edge, Amir says the group has identified at least 135,000 homes that are in the vicinity of its existing network with a further extension to 2.6 million homes. In comparison, market leader TM had 2.23 million Unifi subscribers at the end of last year.
"What we do is that regulated business earns a ride-away charge, but we will have to pull and own our own infrastructure to make it separate from the regulated business. That is my cost of investment.
"However, in order to do the whole NFCP, it is likely that there will be some areas for which a commercially viable solution cannot be proposed. We hope that working with [the government], we will be able to have a support mechanism in place so that we can also support these areas with a commercially viable proposition," he explains.
"That's where we are trying to go — to do the commercially viable ones, and get support for those that are not so commercially viable and see whether we can support the NFCP journey and create the next line of business."
Amir adds, "We bring value because we have infrastructure in areas they (the telcos) don't. So, the next expansion is easy for us to do. Economically, it makes sense."
In Budget 2019, the government allocated RM1 billion to roll out NFCP. For the pilot project in Jasin, which involves 1,100 homes, around RM5 million came from Tenaga, according to reports.
The new business segment is expected to contribute positively to the group from FY2020, says Amir, adding that Tenaga has an advantage as the bulk of the required infrastructure is already there.
Analysts not upbeat on proposition
"Even if Tenaga gets 10% of the 2.6 million households for its last-mile service at RM100 per household per month, the revenue is only about RM312 million a year. The wholesale price could be suppressed due to the government's stand on lowering broadband prices under NFCP," a local fund manager points out.
"As the rationale is for Tenaga to utilise its network in less-connected locations, like the rural areas, the question is, is there a viable end-user market to support the business model?" the analyst asks.
On another front, Amir underlines Tenaga's intention to further its investment opportunities in the renewable energy (RE) space overseas to expand its portfolio and capture new talent in the segment.
Locally, the growth of its generation business is limited outside RE, considering the government's intention to reduce the nation's power reserve margin and increase renewable generation capacity to 20%.
But that, too, will be a challenge.
"They are sitting on cash, and there is room for participation in the renewable energy space overseas. But as it is still a nascent market, the scale has been smallish," says an analyst with a local investment house.
"It would be positive if Tenaga could secure a bigger investment overseas — but then again, its track record with Turkey may not create the necessary confidence of execution," the analyst adds, referring to how GAMA Enerji was fully written off due to a challenging operating environment, particularly due to a weak Turkish lira.
As at last Friday, Tenaga had nine "buy", six "hold" and five "sell" calls from the 20 analysts covering the stock, Bloomberg data shows. The target price averaged RM13.84, with only one call below the company's current share price, at RM10.70. The highest target price stood at RM16.
At its current price, is Tenaga a bargain? It is a little too soon to tell, says the analyst with the local investment house.
"If you are banking on the FBM KLCI going up, you should buy Tenaga. I would not buy based on its fundamentals … let's see the full extent of the industry reform and if Tenaga's earnings improve in the first quarter."