Source: http://www.nextinsight.net/index.php/story-archive-mainmenu-60/924-2014/8108-tiong-seng-s210m-contract-for-wheelock-condo
TIONG SENG HOLDINGS has secured a construction contract worth about S$210 million to build The Panorama, the latest condominium project by Wheelock Properties, at a site just a hop, skip and a jump away from a popular primary school, CHIJ St Nicholas Girls.
This is its second contract exceeding S$200 million in 3 months, the first being a HDB construction contract worth S$204.5 million announced on 3 December.
The latest contract brings its order book to S$1.34 billion, which will be delivered progressively till FY2017.
Tiong Seng is one of Singapore's leading building construction and civil engineering contractors.
Among its numerous residential and commercial projects are the icons of the Singapore skyline.
These include the Marina Bay Financial Centre, Park Royal at Upper Pickering Street, HDB's Punggol West and Wilkie Studio.
During 9M2013, the Group posted revenue growth of 18.9% year-on-year to reach S$424.3 million.
Its earnings were driven by construction contracts, which accounted for 92% of 9M2013 Group revenue.
Addressing challenges in Singapore construction sector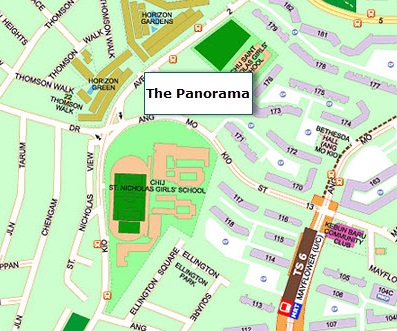 The Panorama is situated directly opposite CHIJ St Nicholas. Other prestigious schools such as Ai Tong and Kuo Chuan Presbyterian are also in the vicinity. The condo location is highly accessible, a short drive to the Ang Mo Kio MRT station, as well as the Ang Mo Kio Bus Interchange. Also easily accessible are Bishan Park, Lower Peirce Reservoir and Yio Chu Kang Stadium.Singapore's tightening manpower policy has led to higher costs for the construction industry and this resulted in Tiong Seng's gross profit margin for construction contracting by 0.7 percentage points to 10.3% in 9M2013.

9M2013 net profit attributable to shareholders declined by 14.4% to S$16.9 million as a result.

"To offset rising labour costs, we continue to focus on providing our precast technology which improves productivity and optimizes land usage," said CEO Pek Lian Guan.

Despite such challenges, total construction demand in 2013 reached a historical high of S$35.8 billion, exceeding the upper-bound projection of S$34 billion in 2013 by about 5%.

Against this high base, BCA estimates as at 9 January 2014 indicate that total value of construction contracts for residential and commercial developments are likely to fall by 32% to 44% in 2014.

To mitigate the challenges faced by the local construction industry, Tiong Seng has already taken several initiatives to expand its footprint outside Singapore.

These include property development projects in China in Tianjin, Suzhou, Yangzhou and the Bohai Economic Rim as well as construction projects in Papua New Guinea.

It has also invested heavily in facilities for precast and Cobiax technology, as well as advanced formwork systems, which reduce on-site labour requirement by up to 30%.

"Having precast plants in Singapore, Malaysia as well as Myanmar enables us to tap on the growing housing demand in the region," added Mr Pek.