Source:
Excerpts from UOB Kay Hian's latest Singapore Strategy report
Andrew Chow, head of research, UOB Kay HianAnalysts: Andrew Chow, CFA, and the Singapore research team
Grinding sideways in 2H13 with moderate upside. A valuation matrix of average long-term mean P/B and PE suggests the market could grind towards a year-end target of 3,600.
We would buy selective large caps on pullbacks since FSSTI is trading less than 5% off its 2-year high and -1SD below its mean VIX. This could provide buying opportunities should markets sell off owing to unfavourable newsflows or datapoints.
Thematic plays in 2H13. Our investment themes for 2H13 include:
a) rotation among high-yield stocks,
b) stocks with region/sector-specific growth drivers, and
c) quality laggards.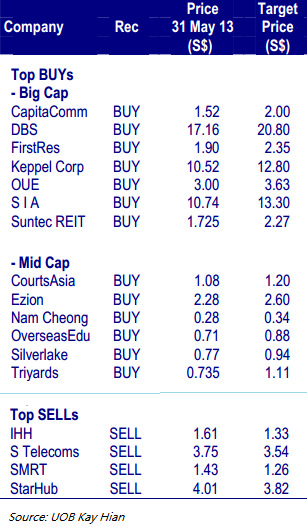 We would also urge investors to take profit in stocks that are trading at stretched valuations, such as the telecom sector.
Big caps look fairly valued. The top 15 stocks in FSSTI are trading at a 6% discount to the long-term P/B mean valuation. Alpha seeking investors may consider selective mid caps with strong cash flows, catalysts or in multi-year growth sectors such as oil services or consumer.
Look forward to 2014 earnings pick-up. We forecast market EPS growth to pick up to 12.7% yoy in 2014 after an anaemic decline of 0.6% yoy in 2013.
Sectors driving the recovery include banks and aviation.
UOBKH's recommended list. Large-cap BUYs include DBS, CCT, Suntec REIT, OUE, Keppel Corp, SIA and First Resources.
Mid-cap picks: Courts Asia, Ezion, Silverlake, Nam Cheong, OEL andTriyards.
Key SELLs include IHH, SMRT, StarHub and SingTel.