Source:
http://www.nextinsight.net/index.php/story-archive-mainmenu-60/919-2013/6934-nam-cheong
Analysts: Chia Jiunyang, CFA, and Low Pei Han, CFA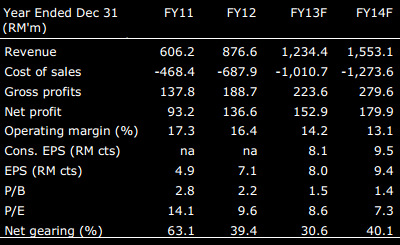 Petronas had pledged to spend RM300b in capital expenditure over 2011-15, 80% more than the previous 5-year period.

We believe this will likely result in increased investments across the Malaysian offshore oil & gas industry.

Already, Nam Cheong is seeing a healthy pick-up in order wins (FY11: 13 vessels; FY12: 21 vessels) and it has recently expanded its shipbuilding programme to 28 vessels for FY14F (FY13: 19 vessels).

Its large order-book of RM1.3b, for 26 vessels delivered over FY13-15F, helps to mitigate its risk by providing a base level of earnings.

Given the strong growth profile, we find current valuation (FY13F PER of 8.6x) attractive.

We now raise our FV to S$0.35 (previously S$0.30) on a higher PER of 11x. Maintain BUY.