Source: http://www.nextinsight.net/index.php/story-archive-mainmenu-60/916-2012/6264-technics-oil-nam-cheong-positive-developmentts
Nam Cheong announced that it has sold three vessels – a 5,000dwt PSV and two 5,150bhp AHTS – for a total value of US$56.4m. This brings the total number of vessels sold this year to a record 21, with a record gross order book of RM1.45b. We maintain our Buy call with a TP of $0.30.
But no more 5,150bhp AHTS available for 2013?Astute investors would notice that Nam Cheong just pulled off a small miracle – selling the two AHTS vessels for 1Q13 delivery when all the small AHTS for 2013 have already been sold since November this year.

Management clarified that the original buyers agreed to take vessels for delivery in 2014 and to give up their current 2013 orders to Icon Offshore. (See shaded lines in Figure 1.)
However, lower FY12F PATMI due to delay of 12,000bhp AHTS sale. With these three vessels sold, the only ship left in this year's shipbuilding programme is the 12,000bhp AHTS whose possible non-sale we flagged out in our Sep-12 report. We understand that there are some variations on the construction, pushing delivery out to 2013. Because of this, our FY12F PATMI falls to RM133m from RM147m, but this still represents a 43% EPS growth from FY11.
Fast-moving inventory. Nam Cheong has already sold 9 out of the 19 vessels scheduled for delivery in FY13F, and with these sales four out of our forecast 20 vessels for FY14F have already been sold. Nam Cheong is keeping up a very strong order momentum.
Valuation – Maintain BUY with a TP of S$0.300. With the year essentially closed, we roll our valuations over to 8.5x FY13F EPS for a TP of $0.300, which is a very conservative multiple for a company growing at a 28% CAGR for the next three years.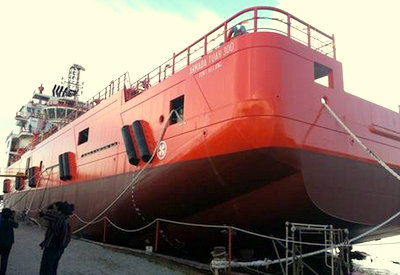 Nam Cheong's just launched Armada Tuah, Malaysia's first diesel-electric multi-purpose platform supply vessel. Photo: Lee Yue Jer